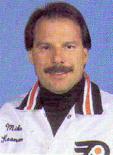 So in a nostalgic moment in time, our dear 1994 Stanley Cup New York Rangers coach Mike Keenan has taken up management brass coaching the Calgary Flames. As I understand it, not such a popular guy here in MSG-land -- takes more jobs over a career than Darcy Tucker absorbs headshots in one game (but it's close, believe me!). So I did a little research...

Keenan was unceremoniously dismissed from the Philadelphia Flyers a year after leading them to the 1987 Stanley Cup Finals. After taking the Chicago Blackhawks to the 1992 Stanley Cup Finals, Keenan was forced to focus solely on his GM duties when longtime Blackhawk player and assistant coach, Darryl Sutter, was being courted by other teams to be their head coach. Owner, "Dollar" Bill Wirtz did not want to lose Sutter, especially since Keenan had stated, in July, 1992, that he wished to focus solely on his duties as general manager after the 92-93 season. Keenan lost a power struggle with Senior V.P. Bob Pulford after the 1992-93 season, resigned his position, and was soon hired by the New York Rangers. Incidentally, Darryl Sutter resigned as head coach of the Blackhawks in 1996 after Jeremy Roenick made derogatory, and, well-publicized, comments on a local sports-radio show. Keenan managed to coach the Rangers to the Stanley Cup in his first and only year as head coach, but was unable to coexist long enough with general manager Neil Smith and resigned weeks later, citing a violation of his contract by the Rangers. Unremarkable stops as coach or general manager in St. Louis, Vancouver, Boston and Florida (twice) followed.

In September of 2006, Keenan again attracted headlines when he abruptly resigned as general manager of the Florida Panthers. It was speculated that Keenan had lost a power struggle with head coach and longtime friend, Jacques Martin, over personnel decisions. Martin succeeded him as general manager upon his resignation.

It is clear people hate this guy, in a bad way. Check out Scott Burnside, ESPN comparing Keenan to a cockroach. Classic.

With such a resume it is questionable "why" Calgary would see this bozo as an asset, though better a Western Conference team should welcome him than our dear Eastern Conference! What better than to play a team that hates it's coach? (Well, beating the NJ Devils)

The Dark Ranger bites the ear of 'Iron Mike', chews a little and moves on to "Messier"
subjects.

tdr